​Monthly General Membership Meetings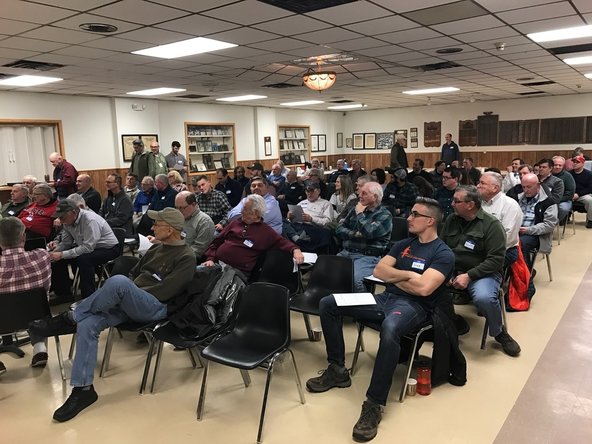 Our next chapter meeting is scheduled for
May 10, 2017 at 7:30pmGuest Speakers:
​Pat Hamilton and Ross Shramko​Details:
Our NJ State Biologists Pat and Ross will update the chapter on pending changes to the fish code, including new regulations for brook trout.
​
Monthly General Meeting Location
---
Come and enjoy the company and friendship of like-minded anglers at our monthly general membership meetings. Each meeting includes door prizes, a brief update on EJTU chapter business and a keynote speaker. The speaker's presentations typically focus on fly fishing or conservation issues. BBQs, tackle swaps, parties, movies, fly tying and fly casting demonstrations take place occasionally as well. Everyone is welcome to attend.
Select EJTU merchandise such as t-shirts, casting shirts, embroidered patches, flys and more are available for purchase at out monthly general membership meetings. New items are frequently available.
For meeting activity suggestions or speaker recommendations contact
Chris Henrickson
(
c.henrickson@icloud.com
)
Upcoming Meetings:

May 2017: Pat Hamilton and Ross Shramko - Proposed NJ Fish Code Changes including new regulations for Brook Trout.

June 2017: George Daniel - Situational Fly Fishing

July 2017: Chapter BBQ and Tackle Swap

August 2017: Fly Fishing Craftsmanship night. Fly Tying, Rod Building and Leader Building.

September 2017: Rod Rohrbach - Fly Fishing and The Meaning of Life

October 2017: Agust Gudmundsson - Fishing NJ Streams

November 2017: Dickson Despommier - The Living River

December 2017: Holiday Party

January 2018: Frank DeGrazio - Fly Fishing the Croton Watershed

February 2018: Movie Night

March 2018: Captain Jim Freda - Year round fly fishing for stripped bass

April 2018: Tim Flagler - Tightline Productions
​A very special thanks to our past speakers:

2017

Ken Tutalo - "Hunting Trophy Browns with Streamers in the Catskills" (April 2017)

Tom Gilmore - "Fly Fishing Pennsylvania" (March 2017)

Steve Culton - "Fishing The Farmington River" (February 2017)

​Jeff Skelding - "Friends of the Upper Delaware River" (January 2017)

2016

Tim Flagler - "What's Happening Now on NJ Trout Streams" (November 2016)

Andy Still - "Fishing and Cleaning Up the Raritan River" (September 2016)

David "Rock" Rockwell - "The Seasons of the Salmon River." (June 2016)

Matt Grobert - "Caddisflies" (May 2016)

Scott Cesari - "Pocono Patterns" (April 2016)

​David Hess, "Fishing in Montana" (March 2016)
​
Chris Clackner, "Fly Fishing in Alaska." (February 2016)

Ed and Judy Van Put, Authors, "Knowing the difference between hatchery and wild trout" (January 2016)

2015

Patricia Hamilton, Principal Fisheries Biologist for NJ Fish & Wildlife, "New Jersey's Wild Brook Trout" (November 2015)

Robert Kecskes, Chief of the Water Supply Planning Section at NJDEP, "New Jersey Waterflows" (October 2015).

Bob Romano, "Fly Fishing the Rangeley Lakes Region of Maine" (September 2015)

Dave Vollenweider "Lake Fishing and Spoon Plugging" (June 2015)

Tom Gilmore "Great trout water from Maine to Georgia" (May 2015)

Rod Rohrbach "Entomology for Fly fishermen" (April 2015)

Tony Ritter, "Fly fishing the Delaware" (March 2015)

Mike Sebetich, "Entomology" (January 2015)

2014

Adam Franschini, "Fly Fishing the Housatonic" (October 2014)

Rich Thomas, "NJ State Council of TU" (September 2014)

Gary Edwards, "Salmon River" (August 2014)

Andrew Moy, "Spey Casting Demonstration" (May 2014)

Paula Piatt, "Fracking" (April 2014)

Colin Archer, "The Average Angler Jersey Shore Saltwater Fly Fishing" (March 2014)

Bob Weslowski, "Fly Fishing the Croton Watershed" (January 2014)

2013

Bill Logan, "Fly Fishing Norway" (November 2013)

Dickson Despommier, "Fly Fishing New Zealand" (October 2013)

Colin Archer, "The Average Angler Jersey Shore Saltwater Fly Fishing" (September 2013)

Brian Cowden, "Fighting Fish" (August 2013)

Bruce Seiden and Jim Brinkerhoff, "Fly Fishing Alaska" (June 2013)

Chris Stewart, "Tenkara Bum" (May 2013)

George Daniel, "2012 Trout Lessons" (April 2013)

George Douglas, "Fishing Gods" (March 2013)

Scott Cesari, "Tips and Tricks to Better Tying" (February 2013)

Mark Sedotti, "Northeast Saltwater Fly Fishing" (January 2013)

2012

Jay "Fishy" Fullum (November 2012)

Ryan Bunn, "Autumn in the Aspens" (October 2012)

Joe Fusco, "Alaska on a Budget" (September 2012)

Ted Patlen, "Fly Tying Innovations" (August 2012)

John Punola, "Delaware River Smallmouth Bass" (June 2012)

Tom Gilmore, "Fly Fishing the Big Apple" (May 2012)

Tom Brtalik, "Fly Fishing for Trout - A Guide's Perspective" (April 2012)

John Shaner, "English Spider Patterns" (March 2012)

2011

Tom Gilmore, (November 2011)

Ben Turpin, (October 2011)

Aaron Jasper, (September 2011)

Brian Cowden, "Musconetcong Homewaters Initiative" (August 2011)

Robert Romano, "Fly Fishing the Rangely Lakes Region" (June 2011)

George Douglas, "Steelhead Fly Fishing" (May 2011)

John Punola, "Delaware River Shad Fishing" (April 2011)

Mark Sedotti, "Living Streamer Fishing" (March 2011)

Rob Nicholas, "Housatonic River" (February 2011)

2010

John Shaner, "Fly Fishing England" (November 2010)

George Petersen, "Fly Fishing Ireland" (October 2010)

Craig Hull, "Finding Big Fish" (September 2010)

Jon Shein, "Kayack Fly Fishing" (August 2010)

Kevin Smaracko, "Delaware River Fly Fishing" (June 2010)

Ryan Bunn, "Western High Mountain Trout" (May 2010)

Tom Gilmore, "Delaware River Shad Fly Fishing" (April 2010)

Ken Tutalo, "East Branch of the Delaware River" (March 2010)

Captain Paul Eidman, "Saltwater Fly Fishing Raritan Bay" (January 2010)

2009

Dickson Despommier, "Madison and Missouri Rivers" (November 2009)

Dwight Landis, "Limestone and Freestone Pennsylvania Trout Streams" (October 2009)